One technology, versatile in use
Whether driver's seat, passenger seat, rear seat, 150mm or 350mm belt extension, the INVENTUS seat belt system can be precisely adjusted to the vehicle and its occupants by software. The strong built-in rotary MRF actuator allows the use of only one system in all load cases. This way, you benefit from reduced development times and economies of scale.
Smart technology, easy to integrate.
The patented INVENTUS seat belt system relies on simple components and finely tuned software. This means more safety for drivers and passengers combined with low production costs of a technology already designed for serial production. Our system can be coupled directly (e.g. axially) to the rotating belt retractor (no need to reverse the direction of movement) and requires no seals or precise surfaces in the "damping chamber" area. And thanks to its compact design, the system can also be installed at the belt deflection point (e.g. the B-pillar).
One system, ready for the future.
Our INVENTUS seat belt system is ready for any scenario. Our software-controlled technology can not only be individually adjusted for varying occupant sizes and loads, but also for completely new seating positions and vehicle designs made possible by fully autonomous driving.
Fast, safe, and reliable.
The built-in MRF actuator reacts in a fraction of a second and, thanks to perfect coordination with the built-in sensors, ensures a restraint force that is ideally matched to the occupant in the case of an emergency. Whereas preset restraint values of conventional systems may cause additional risk, our technology adapts to each individual passenger, the seat occupancy, and seating positions in the vehicle. In addition, even in a non-powered state, permanent magnets or our patented "remanence" ensure a predefined restraint force. This way, we ensure maximum safety in every situation.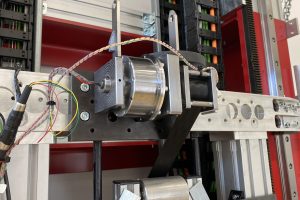 High-rotation actuator with over 2,000 revolutions per minute
Maximum torque of over 40 Newton meters
Fully adjustable within any torque range
Very low OFF-state (base) torque
Contact us for further measurement data (determined with our INVENTUS drop tower).